Child Abuse Expert Witness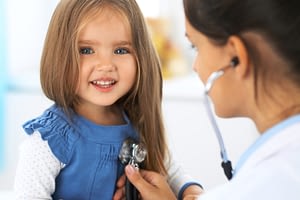 CHILD ABUSE PEDIATRICS is a subspecialty of Pediatric Medicine focusing on the diagnosis and treatment of children and adolescents who are suspected victims of any type of child maltreatment. Types of maltreatment include physical and/or sexual abuse, factitious illness, psychological/emotional abuse, and neglect. Certification in General Pediatrics and completion of Child Abuse Pediatrics fellowship training are required for eligibility to take the subspecialty board examination. Child Abuse Pediatric Boards are conducted by the American Board of Pediatrics. Child Abuse Pediatricians practice primarily in academic settings and are responsible for patient care, research, and teaching. There are also Child Abuse Pediatricians who practice solely in clinical settings like child advocacy centers, clinics, and community hospitals.
A Child Abuse Pediatrics expert witness is often called to provide expert testimony on suspected non-accidental trauma (SNAT) and other forms of maltreatment since it is imperative to distinguish inflicted injuries from accidental trauma.
Elite Medical Experts reviews all aspects of Child Abuse Pediatrics litigation and consultation, including:
Physical abuse
Sexual abuse/molestation
Factitious illness (e.g. Munchausen's by proxy)
Neglect
Psychological/emotional abuse
Shaken Baby Syndrome (SBS)
Abusive head trauma (AHT)
Inflicted trauma
Accidental trauma
Suspected Non-Accidental Trauma (SNAT)
Infanticide
Forensic evaluation of fractures, bruising, and patterns of injury
Given the complexity of Child Abuse Pediatrics, an experienced Board-Certified Child Abuse Pediatrician from a leading university medical center is an invaluable resource in evaluating challenging issues. To secure a hand-selected Child Abuse Pediatrics expert witness who is ready to work with you, please contact Elite Medical Experts and speak with a physician or nurse on Elite's experienced Case Strategy Team today.
A Case Strategist will respond right away:
PLEASE CLICK ON ANY OF THE FOLLOWING PEDIATRIC SPECIALTIES TO LEARN MORE:​