Emergency Medicine Nurse Expert Witness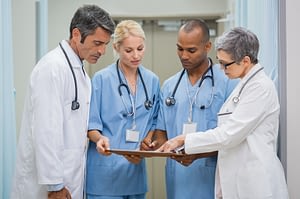 An Emergency Medicine Nurse expert witness testifies about Emergency Room (ER) care including triage, trauma, intravenous lines, and resuscitation.  Emergency Department Nurses treat patients in the Emergency Department (ED) who are suffering from trauma, injury, or a medical condition that requires urgent treatment. From abdominal pain to a heart attack, many conditions with varying degrees of severity are treated in the ED. In order to be an Emergency Nurse, one must obtain either an Associate Degree in Nursing (ADN) or a Bachelor's Degree in Nursing (BSN), and also pass the National Council Licensure Examination (NCLEX). The nurse will then undergo further ED-based training and continuing education courses in order to effectively treat and stabilize patients in the emergency setting. Some ED Nurses earn additional qualification as a Certified Emergency Nurse (CEN). Alongside the interdisciplinary team, Emergency Nurses performs a variety of tasks including nurse triage, medication administration, splint application, intravenous access, patient discharge, and even CPR. In order to perform these tasks, the ED nurse must complete a thorough assessment to determine the extent of injuries in order to develop an appropriate care plan to achieve stabilization and meet all patient's needs. Just like the wide variation that exists in Emergency Medicine, there are several specialized roles an Emergency Nurse may undertake within the department:
Charge Nurse: As a leader and a resource, the Charge Nurse oversees the emergency department and is responsible for staffing, throughput, patient assignments, communication with providers, and administration.
Trauma Nurse: In order to be a Trauma Nurse in the Emergency Department, the nurse must have completed the Trauma Nursing Core Course (TNCC) and have two years of experience in the ED. Examples of cases that Trauma Nurses participate in include motor vehicle accidents, gunshot wounds, and crush injuries.
Triage Nurse: The Triage Nurse plays a pivotal role in the ED and is typically the first point of clinical contact for patients. The role of the Triage Nurse is to quickly assess and evaluate patients using the Emergency Severity Index (ESI) to determine their level of need for medical assistance. In order to triage in a compliant manner, a Triage Nurse must have at least one year of experience in the ED.
Emergency Department Nurse Director
Emergency Department Nurse Manager
Flight/Transport Nurse
Emergency Department Nursing Case Matter
From the treatment of non-urgent problems to the most complex Emergency Nursing care, Elite Medical Experts can hand select an experienced Emergency Medicine Nurse expert witness to review any aspect of Emergency Department nursing care, including:
Intravenous access
Medication administration
Trauma
Splinting and fracture care
Wound dressings
Fast-Track and Minor Care
Resuscitation
Triage and acuity levels
Patient transport and transfers
Discharge instructions
Flight/Transport Nurse
Emergency Department Nurse Manager
Emergency Department Director (Nurse)
An ER Nurse expert witness may be called to provide expert testimony in Emergency Medicine cases, particularly when the standard of care of an Emergency Nurse is in question. To secure a hand-selected Emergency Medicine Nurse expert witness for your case, please contact Elite Medical Experts and speak with a physician or nurse on our Case Strategy Team.
A Case Strategist will respond right away:
PLEASE CLICK ON ANY OF THE FOLLOWING NURSING SPECIALTIES TO LEARN MORE:​