Nurse Practitioner Expert Witness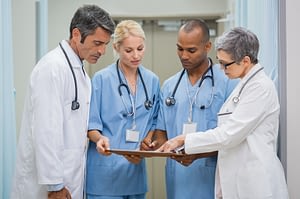 A Nurse Practitioner expert witness testifies about NP practice including patient care, diagnosis, test ordering, treatment, and prescribing medication. Nurse Practitioners (NP) are Advanced Practice Registered Nurses (APRN) who have responsibilities beyond Registered Nurses. In many states, Nurse Practitioners work independently without the supervision of a physician, meaning that they have full practice authority to evaluate patients, diagnose, order and interpret tests, and prescribe treatments as long as they are licensed under the state Board of Nursing. The relative independence of Nurse Practitioners (and Physician Assistants as well) places them in a unique class known as "mid-level providers" — non-physician healthcare professionals who provide direct patient care. Nurse Practitioners undertake graduate level education to provide routine patient care, and they can narrow their field of practice to include primary care, acute care, or specialty care to patients of any age. Specialized titles in the NP field include Family Nurse Practitioner (FNP), Neonatal Nurse Practitioner (NNP), Pediatric Nurse Practitioner (PNP), Certified Nurse Midwife (CNM), Women's Health Nurse Practitioner (WHNP), and Psychiatric & Mental Health Nurse Practitioner (PMHNP). Beyond the foci, NPs can subspecialize in fields ranging from orthopedics to holistic care.
Becoming an NP requires between 1.5 and 3 years of post-baccalaureate training to obtain a master's or doctoral degree (DNP) as well as clinical training far beyond the requirements of registered nurses. Nurse Practitioners focus on health promotion, health education, and disease prevention while mentoring and educating their patients. In hospitals and medical offices nationwide, NPs help to unburden physicians while ensuring patient care needs are met.
Nurse Practitioner Case Matter
A Nurse Practitioner expert witness may be called to provide expert testimony in NP cases when the care of a Nurse Practitioner has been called into question. In states where the law requires NPs to conduct care under physician oversight, a physician's opinion and testimony may be required even if the physician was not directly involved. When selecting a Nurse Practitioner expert witness, there are myriad areas in which NPs may practice:
Adult-Gerontology Acute Care Nurse Practitioner
Adult-Gerontology Primary Care Nurse Practitioner
Family Nurse Practitioner
Neonatal Nurse Practitioner
Acute Care Nurse Practitioner
Cardiac Nurse Practitioner
Orthopedic Nurse Practitioner
Oncology Nurse Practitioner
Pediatric Nurse Practitioner
Psychiatric Nurse Practitioner
Women's Health Nurse Practitioner
To secure a hand-selected Nurse Practitioner expert witness for your case, please contact Elite Medical Experts and speak with a physician or nurse on our Case Strategy Team.
A Case Strategist will respond right away:
PLEASE CLICK ON ANY OF THE FOLLOWING NURSING SPECIALTIES TO LEARN MORE:​​