Labor & Delivery Nurse Expert Witness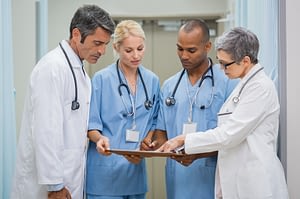 A Labor and Delivery Nurse expert witness testifies on all phases of labor and fetal monitoring from the first stage of labor through delivery of the baby. A Labor and Delivery Nurse (also known as an L&D Nurse, or Obstetric Nurse) works closely with Obstetricians to determine when a woman is in labor, and to assist with all stages of labor and delivery. This includes continuous assessment during the antepartum, intrapartum, postpartum, and neonatal phases of labor to ensure both the mother and baby are safe and stable. For the mother, continuous assessment includes serial physical exams, monitoring of vital signs, assessment of cervical effacement and dilation, and monitoring of uterine contractions. For the fetus, Labor & Delivery Nurses track data from fetal heart monitoring devices that may record externally (transducer) or from a fetal scalp electrode. The nurse is responsible for detecting any abnormal signals that occur while monitoring uterine contractions and fetal heart rates, and for properly notifying the obstetric team and assisting in the treatment of complications. Labor & Delivery Nurses also administer medications, assist with epidurals, and coach the mother during the conduct of labor and delivery. They work alongside a Obstetricians, Anesthesiologists, and Midwives to achieve the best outcomes for their patients. An experienced Labor and Delivery Nurse expert witness may address any of these areas.
L & D Nurses are licensed professionals with a diploma in Nursing, and many hold a two-year Associate Degree in Nursing (ADN) or a Bachelor's Degree in Nursing (BSN) while adhering to all requirements established by the facility and state. Additional certifications may include Inpatient Obstetric Nursing (RNC-OB), Neonatal Resuscitation Program (NRP), Neonatal Advanced Life Support (NALS), and Pediatric Advanced Life Support (PALS).
A Labor and Delivery Nurse expert witness may be called to provide expert testimony on cases in which there is poor fetal or neonatal outcome, particularly hypoxic injuries such as hypoxic ischemic encephalopathy (HIE). Since many of these cases focus on allegations of failing to respond to ominous trends on the fetal heart monitor, L&D Nurse experts are required to draw conclusions regarding the applicable standard of care.
Labor & Delivery Nursing Case Matter
From the first sign of labor to the completion of delivery, Elite Medical Experts consults on all aspects of Labor and Delivery litigation, including:
Fetal distress
Hypoxic ischemic encephalopathy (HIE)
Fetal monitoring; late decelerations
Birth trauma
Contraction monitoring
Obstetric notification
To secure a hand-selected Obstetric Nurse expert witness for your case, please contact 
Elite Medical Experts
 and speak with a physician or nurse on our Case Strategy Team.
A Case Strategist will respond right away:
PLEASE CLICK ON ANY OF THE FOLLOWING NURSING SPECIALTIES TO LEARN MORE:​