Neonatal ICU (NICU) Nurse Expert Witness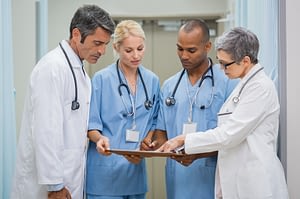 A Neonatal ICU Nurse expert witness testifies about the care of newborns (neonates) with complex problems requiring treatment in the Neonatal ICU (NICU).  Neonatal ICU Nurses (NICU Nurses) treat newborns (<30 days old) who suffer from myriad conditions that require focused treatment in an Intensive Care Unit (ICU). Conditions that are commonly seen in the NICU include congenital anomalies, cardiac malformations, complications of prematurity, infection, and birth injuries (e.g. hypoxic ischemic encephalopathy). NICU Nurses assess, monitor, and care for vulnerable infants whose conditions range from stable to life-threatening.
NICU Nurses undergo specialized training to allow them to care for this fragile population, and many have earned CCRN-Neonatal specialty certification. Neonatal ICU Nurses have either an Associate Degree in Nursing (ADN) or a Bachelor's Degree in Nursing (BSN), and undergo further hospital-based training and continuing medical education in order to competently monitor and manage neonates in an ICU setting. They work alongside a team of medical professionals including Neonatologists, Pediatric Surgeons, and Pediatric Infectious Disease specialists to achieve the best outcomes for their patients. Neonatal ICU Nurses also work closely families to ensure that they're educated on day-to-day developments and special needs during this challenging time in parenthood. Responsibilities of Neonatal ICU nurses include continuous patient monitoring, medication administration, placement of intravenous lines, delivery of prescribed treatment, and provision of routine care and support.
Neonatal ICU (NICU) Nursing Case Matter
From routine outpatient surgery to the most robotic complex surgical procedures, Elite Medical Experts can align a Neonatal Nurse expert witness for any element of NICU Nursing including:
Premature birth
Birth defects
Respiratory Distress Syndrome (RDS)
Sepsis
Necrotizing Enterocolitis (NEC)
Intraventricular Hemorrhage (IVH)
Anemia
Hydrocephalus
Jaundice
Patent Ductus Arteriosus (PDA)
Transient Tachypnea of the Newborn (TTN)
A Neonatal ICU Nurse expert witness may be called for expert testimony on NICU cases when the care provided by an NICU Nurse is alleged to have breached applicable standards. To secure a hand-selected NICU Nurse expert witness, please contact Elite Medical Experts and speak with a physician or nurse on our Case Strategy Team
A Case Strategist will respond right away:
PLEASE CLICK ON ANY OF THE FOLLOWING NURSING SPECIALTIES TO LEARN MORE:​