Oncology Nursing Expert Witness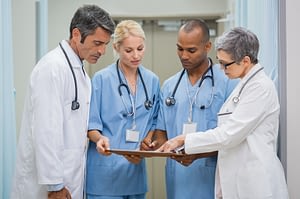 An Oncology Nurse expert witness testifies on the care of cancer patients in outpatient, hospital, radiation, surgical, and chemotherapy infusion settings. Oncology Nurses are nurses who treat patients who have been diagnosed with cancer.
Oncology Nurses care for individuals in inpatient settings, bone marrow transplant units, and outpatient clinics where they provide both curative and palliative treatment as well. Oncology Nurses care for patients of all ages, from infancy to geriatrics, though the care of children is typically performed by Pediatric Oncology Nurses. Oncology nurses (sometimes called Hematology/Oncology nurses) must obtain a Bachelor of Science (BSN) in Nursing or an Associate Degree (ADN) in Nursing. After gaining practical experience in the field, Oncology Nurses are eligible to obtain certification as an Oncology Certified Nurse (OCN). Oncology nurses work closely with a multi-disciplinary team and must understand laboratory and pathology results in addition to knowledge of various chemotherapy and radiology treatments and associated side effects. An experienced Oncology Nurs expert witness may opine on any of these areas.
Oncology Nurses sometimes focus in specialized areas including:
Chemotherapy/Infusion (Certified Registered Nurse Infusion, or CRNI)

Bone Marrow Transplantation

Pediatric Oncology

Radiation Oncology

Surgical Oncology

Breast Oncology

Gynecologic Oncology
Oncology Nursing Case Matter
An Oncology Nurse expert witness may be called to provide expert testimony on cases where the care provided by an Oncology Nurse is in question, particularly due to a complication with chemotherapy dosing or infusion such as intravenous extravasation. To secure a hand-selected Oncology Nurse expert witness for your case, please contact Elite Medical Experts and speak with a physician or nurse on our Case Strategy Team.
A Case Strategist will respond right away:
PLEASE CLICK ON ANY OF THE FOLLOWING NURSING SPECIALTIES TO LEARN MORE:​​