Colorectal Surgery Expert Witness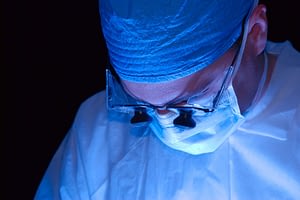 A Colorectal Surgery expert witness is a Colorectal Surgeon who testifies about the surgical treatment of colon cancer, diverticulitis, and other diseases.  Colorectal Surgery, also known as "Colon and Rectal Surgery," or "Proctology," is a subspecialty of General Surgery focusing on the surgical treatment of conditions involving the colon, sigmoid, rectum, and anus. Common colorectal procedures include hemorrhoidectomy, treatment of colon cancer, and partial bowel resection for diverticulitis. Since General Surgeons may perform many of the same procedures, Colorectal specialists are often called to treat the most challenging cases and to assist other surgeons during complex intra-abdominal procedures. To become a Colorectal Surgeon, candidates must first finish four years of medical school followed by a 5-year surgical residency. They will then devote an additional one to two years of study while in an accredited Colorectal Surgery fellowship. Once completed, candidates may be eligible for Board Certification by the American Board of Colon and Rectal Surgery, one of the primary boards of the American Board of Medical Specialties. Colorectal Surgeons typically work in private surgical practices and perform surgery at major medical centers.
Litigation in Colorectal Surgery commonly stems from allegations of perforation, leakage, infection, or damage to nearby structures such at the ureters or urinary bladder. A Colorectal Surgery expert witness may testify on standard of care, or they may be called as experts on causation when treatment is delayed or complications occur from other surgeries.
Colorectal Surgery Case Matter
From the most common colorectal procedures to the latest endoscopic surgical techniques, Elite Medical Experts can align a top-tier Colorectal Surgery expert witness to cover any aspect of Colon and Rectal Surgery litigation or consultation, including:
Abdominal adhesions and adhesiolysis
Abdominoperineal resection (APR)
Anal, rectal, and colon cancer
Anal and enterocutaneous fistulas
Colon cancer
Crohn's disease
Ulcerative colitis
Diverticulitis
Bowel obstruction and bowel perforation
Fecal incontinence
Hemorrhoids and hemorrhoidectomy
Lynch syndrome
Ileostomy and colostomy surgery
Transanal Endoscopic Microsurgery (TEM)
Volvulus
Intussusception
Given the complexity of Colorectal Surgery, an experienced Board-Certified Colorectal Surgery expert witness from a leading university medical center is an invaluable resource for challenging assignments. To secure a hand-selected Colorectal Surgery expert witness who is ready to work with you, please contact Elite Medical Experts and speak with a physician or nurse on Elite's experienced Case Strategy Team today.
A Case Strategist will respond right away:
PLEASE CLICK ON ANY OF THE FOLLOWING SURGICAL SPECIALTIES TO LEARN MORE:​