Laparoscopic Surgery Expert Witness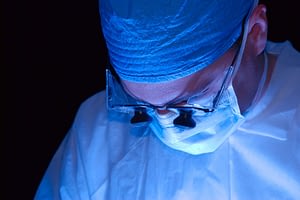 A Laparoscopic Surgery expert witness is a surgeon who testifies on minimally invasive techniques to treat conditions from gallbladder disease to cancer.  Laparoscopic Surgery, also known as Minimally Invasive Surgery, is a type of surgery that utilizes small incisions and specialized instruments to perform surgical procedures within the abdomen. Laparoscopic Surgery is simply one type of endoscopy — the process of utilizing tiny scopes to peer within various body structures. The potential advantage of laparoscopic surgery is reduced bleeding, reduced scarring, minimal pain, and shorter hospitalization. This is in contrast to traditional surgical techniques, which involve wide incisions and direct visualization of a large portion of the operative field. Common laparoscopic procedures include cholecystectomy, appendectomy, bowel resection, Nissen fundoplication, and exploratory laparoscopy. Laparoscopic Surgery is traditionally performed by General Surgeons with expertise in laparoscopic techniques. However, laparoscopic techniques are available to all surgical fields and such techniques are widely adopted in Gynecologic Surgery, Cardiothoracic Surgery, Orthopedic Surgery, and Urology. Some surgeons also have expertise in Robotic Assisted Surgery, a subarea of laparoscopic surgery that utilizes a robotic interface between the surgeon and patient. The da Vinci® Surgical System is the most widely deployed robotic system in the United States.  A qualified Laparoscopic Surgery expert witness will have experience with robot-assisted minimally invasive surgery.
Litigation against Laparoscopic Surgeons is on the rise as more and more surgeries are performed with laparoscopic and robotic techniques. Litigation typically focuses upon complications experienced during surgery such as perforation or injury of adjacent structures, especially upon the initial "blind" insertion of instruments (e.g. trocars) into the abdomen. Another common area of litigation involves the accidental clamping of the common bile duct (rather than the cystic duct) during routine gallbladder removal (cholecystectomy). Such injuries are catastrophic if not promptly recognized and treated.
Laparoscopic Surgery Case Matter
Regardless of the procedure involved, Elite Medical Experts covers the entire spectrum of Laparoscopic Surgery litigation and consultation, including:
Appendectomy
Cholecystectomy (Gallbladder removal)
Laparoscopic Nissen fundoplication (surgery to correct gastroesophageal reflux)
Laparoscopic hiatal hernia surgery
Colectomy and ileostomy
Exploratory laparoscopy
Splenectomy
Laparoscopic hernia surgery: inguinal and ventral
Laparoscopic bariatric surgery
Gastric banding ("Lap Band Surgery")

Vertical sleeve gastrectomy
Roux-en-Y gastric bypass
Video-Assisted Thoracoscopic Surgery ("VATS")

Pediatric laparoscopic surgery
Adrenalectomy
Nephrectomy
Laparoscopic adhesiolysis
Laparoscopic hysterectomy
Given the inherent complexity of Laparoscopic Surgery, an experienced Board-Certified Minimally Invasive Surgery expert witness from a top university medical center is an invaluable asset for challenging assignments. To secure a hand-selected Laparoscopic Surgery expert witness who is ready to work with you, please contact Elite Medical Experts and speak with a physician or nurse on Elite's experienced Case Strategy Team today.
A Case Strategist will respond right away:
PLEASE CLICK ON ANY OF THE FOLLOWING SURGICAL SPECIALTIES TO LEARN MORE:​