Ophthalmology Expert Witness
An Ophthalmology expert witness is an Ophthalmologist who testifies on disease and injury of the sclera, cornea, iris, lens, vitreous, and retina.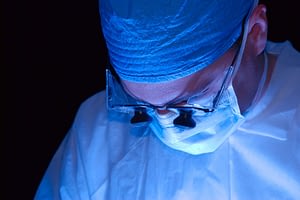 Ophthalmology is a specialized field dealing with the medical and surgical treatment of the eye. Ophthalmologists complete a complex four year residency that may be followed by extended fellowships in Vitreoretinal Disease (Retina Specialist), Cataract & Refractive Surgery, Pediatric Ophthalmology, Glaucoma, Ophthalmic Plastic Surgery, Ocular Oncology, or Neuro-Ophthalmology.
Ophthalmology and Optometry are different specialties. While Ophthalmologists are medical doctors possessing M.D. degrees, Optometrists complete a four-year postgraduate degree program to earn their Doctor of Optometry (O.D.) degree. Optometrists evaluate general eye health and treat common conditions related to the eye and vision. Ophthalmologists are licensed to perform surgeries and treatments that extend beyond the scope of general Optometry.
Ophthalmologists may focus on common medical conditions such as near and far-sightedness (myopia and hyperopia) or glaucoma (increased pressure within the eye). Other common conditions include infections such as conjunctivitis, or injuries resulting in corneal abrasion or retinal detachment. While ocular tumors are rare, specialized Ophthalmologists treat tumors such as retinoblastoma and uveal melanoma. Ophthalmologists are also trained in surgery and perform a wide range of procedures such as cataract surgery, laser vision surgery (LASIK), and ocular muscle surgery (myomectomy or myotomy). They also commonly perform oculoplastic surgeries such as blepharoplasty ("eye lift"), orbital reconstruction, and various cosmetic procedures such as injectable fillers and Botox®. Given the diversity of practice, a carefully selected Ophthalmology expert witness is critical to each eye case.
Litigation against Ophthalmologists commonly involves allegations of incorrect surgical technique and complications of surgery, including bleeding, infection, and damage to adjacent structures. Missed or delayed diagnosis of vision-compromising conditions (e.g. glaucoma) is another common source of litigation in Ophthalmology.
Ophthalmology Case Matter
From common ophthalmic infections to acute ophthalmologic emergencies, Elite Medical Experts hand selects Ophthalmology expert witnesses for all aspects of Ophthalmology litigation and consultation, including:
Acute angle closure glaucoma
Amblyopia ("Lazy eye")
Anterior ischemic optic neuropathy ("AION")
Astigmatism
Bacterial keratitis
Blepharitis
Blepharoplasty ("eye lift")
Cataract surgery (Phacoemulsification, Intracapsular cataract extraction)
Central retinal artery occlusion
Chemical and ultraviolet burns
Conjunctivitis ("pink eye")
Corneal transplant surgery
Cosmetic injectables (Botox®, Radiesse®, Juvederm®, Restylane®)
Dacryocystorhinotomy (tear duct surgery)
Diabetic retinopathy
Horner's syndrome
Ophthalmologic herpes (simplex, zoster)
Orbital blowout fractures
Posterior vitreal detachment
Pre-septal and orbital cellulitis
Refractive laser eye surgery (e.g. LASIK)
Retinal detachment
Ruptured globe
Strabismus
Temporal arteritis (i.e. giant cell arteritis)
Vitreoretinal surgery (e.g. retinal photocoagulation)
Given the breadth and subspecialization of Ophthalmology practice, an experienced Board-Certified Ophthalmology expert witness from a top university medical center is an invaluable asset for challenging cases. To secure a hand-selected Ophthalmology expert witness who is ready to work with you, please contact Elite Medical Experts and speak with a physician or nurse on Elite's experienced Case Strategy Team today.
A Case Strategist will respond right away:
PLEASE CLICK ON ANY OF THE FOLLOWING SURGICAL SPECIALTIES TO LEARN MORE:​