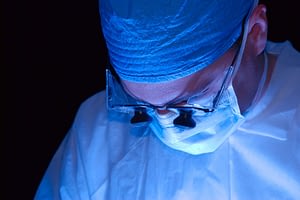 A Podiatry expert witness is a Podiatrist (DPM) testifying on the diagnosis and treatment of disease and injury of the foot, ankle, and lower extremity.  Podiatry, or Podiatric Medicine, is a field of study dedicated to the diagnosis and treatment of disorders of the foot, ankle, and lower extremity. Podiatrists may perform surgery, prescribe medications, interpret radiographs, treat fractures, fit orthotics (e.g. insoles and custom-made shoes), and perform physical therapy. To become a Doctor of Podiatric Medicine (DPM), a candidate must first complete an undergraduate curriculum followed by four years of graduate education at one of nine accredited podiatric schools in the United States. Upon completion, graduates undertake a 3-year residency in order to become competent in Podiatric Surgery and to be eligible for certification by the American Board of Podiatric Medicine (ABPM) or the American Board of Foot & Ankle Surgery (ABFAS). Podiatrists treat a broad spectrum of non-surgical issues, though they also perform reconstructive and microsurgical procedures on the foot and ankle. Podiatrists also treat fractures and sports-related injuries in addition to prescribing orthotics, prosthetics, and physical therapy. Podiatrists can also specialize in a range of areas including wound care, pediatrics, diabetic foot care, sports medicine, and surgery. As a result, Podiatrists treat disorders ranging from common bunions to complex infections of the diabetic foot.
The field of Podiatry shares some commonality with General Orthopedic Surgery and Foot & Ankle Surgery. These latter fields are practiced by medical doctors (M.D.s) who complete four years of medical school followed by an extended residency in Orthopedics, often with additional fellowship training. Despite the protracted duration of M.D. education, Podiatrists and Orthopedic Surgeons share a great deal in common in terms of isolated foot and ankle care.  A carefully selected Podiatry expert witness can address any of these areas.
Podiatry expert witnesses are required in a range of scenarios in medical malpractice litigation. Issues may involve standard of care (e.g. failure to diagnose) as well as analyzing issues of harm and causation related to delayed diagnosis or improper treatment. Elite thrives on these tough situations and has an extensive record of success in complex Podiatry litigation and consulting.
With hand-selected Podiatry experts from leading universities, and with each specialist vetted for the specifics of the case, Elite can handle any aspect of Podiatry consulting and litigation, including:
Hammer toes
Bunions and bunionectomy
Chopart's joint
Diabetic foot infection
Ingrown toenail
Foot and ankle trauma
Foot and ankle fractures
Ankle joint replacement (total ankle arthroplasty)
Diabetic foot infections, osteomyelitis, ischemia, and amputation
Tendinitis
Tendon rupture
Toe fractures
Plantar warts
Plantar fasciitis
Achilles tendon repair
Clubfoot
Heel spurs
Neuroma
Puncture wounds
Toenail fungus (Onychomycosis or "tinea unguium")
Metatarsalgia
Osgood-Schlatter's Disease
Due to the unique challenges in the field of Podiatrics, a Board-Certified Podiatry expert witness from a top university medical center will be an invaluable resource. To secure a hand-selected Podiatric expert witness who is ready to work with you, please contact Elite Medical Experts and speak with a physician or nurse on Elite's experienced Case Strategy Team today.
A Case Strategist will respond right away:
PLEASE CLICK ON ANY OF THE FOLLOWING SURGICAL SPECIALTIES TO LEARN MORE:​