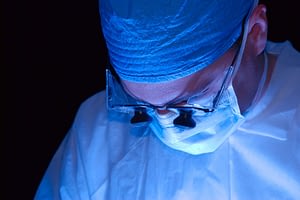 A Surgical Oncology expert witness is a Surgical Oncologist who testifies on the surgical treatment of cancer occurring in nearly any part of the body. SURGICAL ONCOLOGY is a highly specialized oncologic field devoted to the surgical diagnosis, staging, management, and treatment of cancer. While surgeons from myriad fields routinely operate on tumors, there are fewer than two thousand fellowship-trained Surgical Oncologists in the United States. It is also one of the newest medical specialties with formal recognition by the American Board of Medical Specialties (ABMS) in 2011. To become a Surgical Oncologist, a physician must first obtain board certification by the American Board of Surgery with a certificate in General Surgery or Vascular Surgery. After completing subsequent fellowship in Surgical Oncology, they are eligible for subspecialty certification in Complex General Surgical Oncology, which means that they diagnose and treat cancers throughout the body, particularly when the tumors are rare or complex. A qualified Surgical Oncology expert witness will have this added qualification.
Common types of surgery performed by Surgical Oncologists include:
Diagnostic cancer surgery

Cancer staging surgery

Breast cancer surgery: Lumpectomy, mastectomy, sentinel node biopsy, lymph node dissection

Gastrointestinal cancer surgery: Colectomy, esophagogastrectomy, small bowel resection

Hepatic cancer: Liver resection, embolization, radiofrequency ablation

Lung cancer: Lung resection, intraoperative brachytherapy

Melanoma surgery

Pancreatic surgery: Whipple procedure, robotic pancreatectomy, Appleby operation

Prostate and urological cancer surgery

Sarcoma surgery
A Surgical Oncology expert witness serves a valuable role in complex litigation by drawing conclusions regarding standard of care, harm, and causation. For Surgical Oncology experts addressing standard of care, many states require "same specialty", meaning that only a Surgical Oncologist can testify against, or on behalf of, another Surgical Oncologist. For issue of harm and causation, a top-tier Surgical Oncology expert witness is an invaluable asset for educating the trier of fact on the existence, etiology, relevance, permanency, treatment, and prognosis of various types of cancers. These questions are common in cases where the cancer was diagnosed or treated after an alleged delay.
To secure a hand-selected Surgical Oncology expert witness who is ready to shed light on complex issues, please contact Elite Medical Experts and speak with a physician or nurse on our Case Strategy Team.
A Case Strategist will respond right away:
PLEASE CLICK ON ANY OF THE FOLLOWING SURGICAL SPECIALTIES TO LEARN MORE:​