General Surgery Expert Witness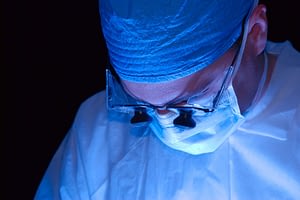 A General Surgery expert witness is a Surgeon who testifies about surgical procedures such as appendectomy, cholecystectomy, and breast surgery. General Surgery is the field of surgery dealing predominantly with surgery upon the abdominal organs including the esophagus, stomach, intestinal tract, liver, pancreas, and gallbladder. General Surgeons also operate upon the thyroid and breast, and may perform some skin-related surgeries such as the treatment of burns, tumors, and infections (e.g. abscesses). General Surgeons also focus upon trauma and assist in running trauma centers across the nation. In the last two decades, the majority of General Surgeons perform minimally invasive surgery, the utilization of tiny cameras and devices to facilitate surgery in the least invasive fashion. Robotic surgery (really robot-assisted surgery) allow surgeons to perform delicate operations with unparalleled precision and dexterity.
Litigation against General Surgeons commonly involves allegations of delayed or improper treatment as well as standard complications of surgery including bleeding, infection, or damage to adjacent structures. Because the field of surgery is so specialized, a leading General Surgery expert witness is critical to distill complex issues. Elite Medical Experts maintains experts covering all subspecialty areas of General Surgery, including Vascular Surgery, Trauma Surgery, Endocrine Surgery, Bariatric Surgery, and Colorectal Surgery
General Surgery Case Matter
From the treatment of appendicitis and gallbladder disease to the most complex procedures in the field, Elite Medical Experts reviews all aspects of surgical litigation and consultation, including:
Gastric surgery

Nissen fundoplication
Gastrectomy
Gastrojejunostomy

Intestinal surgery

Appendectomy
Colectomy
Small bowel resection
Release of adhesions (adhesiolysis)

Hepatobiliary surgery

Cholecystectomy
Liver resection

Hernia surgery (Herniorrhaphy: inguinal, femoral, and ventral)
Skin surgery

Debridement of burns
Complex soft tissue injuries
Drainage of abscesses
Necrotizing fasciitis

Breast surgery
Hemorrhoid surgery
Laparoscopic Surgery (minimally invasive techniques performed through small incisions)
Robotic surgery (e.g. da Vinci® Surgical System)
Due to the complexity and scope of surgical issues, an experienced Board-Certified General Surgeon from a top university medical center is an invaluable resource for challenging assignments. To secure a hand-selected G who is ready to work with you, please contact Elite Medical Experts and speak with a physician or nurse on Elite's experienced Case Strategy Team today.
A Case Strategist will respond right away:
PLEASE CLICK ON ANY OF THE FOLLOWING SURGICAL SPECIALTIES TO LEARN MORE:​