Vascular Surgery Expert Witness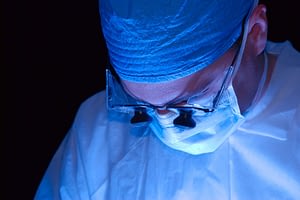 A Vascular Surgery expert witness is a Vascular Surgeon who testifies on topics involving arteries and veins such as occlusion, aneurysm, and trauma. Vascular Surgery is a subspecialty of General Surgery involving the surgical treatment of vascular (i.e. blood vessel) disease. Common vascular procedures include aneurysm repair, carotid endarterectomy (i.e. clearing of the carotid artery), treatment of peripheral vascular disease (via angioplasty or bypass), and varicose vein surgery (via vein stripping, sclerotherapy, and ablation). Board Certification in Vascular Surgery requires completion of a General Surgery residency followed by a fellowship in Vascular Surgery. A Vascular Surgery expert witness should always be certified by the American Board of General Surgery with a certificate in Vascular Surgery.
Litigation against Vascular Surgeons is less common than having a Vascular Surgeon opine on causation involving other physicians who fail to diagnose and treat vascular conditions. Amongst these conditions, the failure to diagnose and/or treat peripheral artery disease and limb ischemia is perhaps the most common area of litigation.
Vascular Surgery Case Matter
Elite Medical Experts reviews all aspects of Vascular Surgery litigation and consultation, including:
Peripheral vascular disease
Acute limb ischemia (arterial occlusion)
Chronic limb ischemia
Thromboangiitis obliterans (Buerger's Disease)
Vascular trauma (arterial injury and transection)
Thoracic outlet syndrome
Raynaud's syndrome
Arterial aneurysms

Abdominal aortic aneurysm (AAA)
Iliac artery aneurysm
Popliteal artery aneurysm

Carotid artery disease and carotid endarterectomy
Mesenteric ischemia and occlusion
Chronic venous insufficiency
Varicose veins
Deep venous thrombosis
Lymphedema
Given the complexity and breadth of Vascular Surgery topics, an experienced Board-Certified Vascular Surgeon from a top university medical center is an invaluable asset for challenging assignments. To secure a hand-selected Vascular Surgery expert witness who is ready to work with you, please contact Elite Medical Experts and speak with a physician or nurse on Elite's experienced Case Strategy Team today.
A Case Strategist will respond right away:
PLEASE CLICK ON ANY OF THE FOLLOWING SURGICAL SPECIALTIES TO LEARN MORE:​