Craniofacial Surgery Expert Witness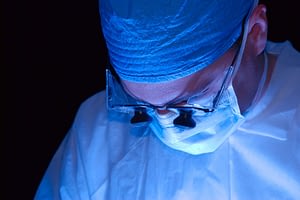 A Craniofacial Surgery expert witness is a surgeon who testifies about the surgical treatment of injuries, tumors, and disease involving the skull and face. A Craniofacial Surgeon is a surgical subspecialist who diagnoses and treats congenital and acquired deformities of the head, skull, face, neck, and jaw. Craniofacial Surgeons complete four years of medical school followed by a surgical residency in Oral and Maxillofacial Surgery, ENT specialties, or Plastic and Reconstructive Surgery followed by fellowship training in Craniofacial Surgery. There is no specific board certification for Craniofacial Surgery, but there are specialty societies. The Craniofacial Surgeon has a unique role in diagnosing and treating congenital and acquired facial deformities that can be disabling or fatal.  A Craniofacial Surgery expert witness can address any of these areas.
Medical malpractice litigation in Craniofacial Surgery is often related to causation, requiring the expert to educate the trier of fact on the cause, extent, and prognosis of various craniofacial deformities and injuries. An experienced Craniofacial Surgeon is mission critical for this role.
Craniofacial Surgery Case Matter
Elite Medical Experts reviews all aspects of Craniofacial Surgery litigation and consultation, including:
Craniosynostosis
Craniofacial clefts
Acute and chronic sequelae of facial fractures
Cleft lip and palate
Micrognathia
Apert Syndrome
Crouzon Syndrome
Craniofacial microsomia
Given the complexity of Craniofacial Surgery, an experienced Board-Certified Craniofacial expert witness from a leading university medical center is an invaluable resource for challenging assignments. To secure a hand-selected Craniofacial Surgery expert witness who is ready to work with you, please contact Elite Medical Experts and speak with a physician or nurse on Elite's experienced Case Strategy Team today.
A Case Strategist will respond right away:
PLEASE CLICK ON ANY OF THE FOLLOWING SURGICAL SPECIALTIES TO LEARN MORE:​