Internal Medicine Expert Witness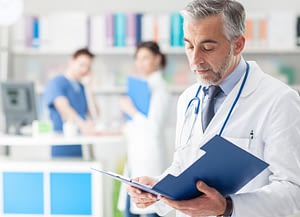 An Internal Medicine expert witness is an Internist who testifies on the diagnosis and treatment of medical conditions in adult patients.  Internal Medicine is a field of medicine dealing with the prevention and treatment of adult disease. Internal Medicine specialists, commonly known as Internists, undertake three years of residency training before seeking Board Certification in Internal Medicine. Internal Medicine is the foundation for many physicians who elect to pursue subspecialties in other fields such as Cardiology, Gastroenterology, and Neurology. Those who choose to remain within the field of Internal Medicine typically work in private practice, community hospitals, or large university physician groups.
Internal Medicine physicians are typically primary care providers who treat patients on an outpatient basis. In addition to providing routine and preventative treatment, Internists often serve as the gateway to care when patients develop symptoms that require advanced care by a specialist or in an emergency department. Hospital-based Internists are known as Hospitalists, one of the newest fields in medicine. Hospitalists treat hospitalized patients before relinquishing care back to a primary care provider upon discharge. They primarily manage conditions such as pneumonia, urinary tract infection, and complications of diabetes, though they may participate as part of a team to treat complex conditions such as sepsis or stroke. Regardless of whether an Internal Medicine physician is an outpatient or inpatient provider, they must be able to recognize and treat nearly every major medical condition.  Given the myriad conditions treated by Internists, it is imperative to carefully select an Internal Medicine expert witness who is on point for the specific issues in the case.
Litigation against primary care Internal Medicine physicians commonly involves allegations of missed or delayed diagnosis when a patient should have had additional testing, consultation, or evaluation in an emergency department. Allegations against Hospitalists commonly result from incorrect diagnosis and treatment, delay in consulting specialist care, and medication errors.
Internal Medicine Case Matter
From private practice to the acute hospital setting, Elite Medical Experts reviews all aspects of Internal Medicine litigation and consultation, including:
Abdominal pain
Angina (chest pain)
Appendicitis
Cancer recognition
Cellulitis
Cholecystitis
Deep vein thrombosis ("DVT")
Dementia
Depression
Diabetes
Diverticulitis
Headache
Hyperlipidemia (e.g. elevated cholesterol or triglycerides)
Hypertension (high blood pressure)
Hypothyroidism
Myocardial infarction ("heart attack")
Necrotizing fasciitis
Pneumonia
Polypharmacy (medication interactions)
Pulmonary embolism ("PE")
Sepsis
Shortness of breath
Substance abuse
Suicidal ideation
Urinary tract infection
An experienced Board-Certified Internal Medicine expert witness from a leading university medical center is an invaluable resource for challenging assignments. To secure a hand-selected Internal Medicine expert witness who is ready to work with you, please contact Elite Medical Experts and speak with a physician or nurse on Elite's experienced Case Strategy Team today.
A Case Strategist will respond right away:

Author Profile
Dr. Burton Bentley II, the CEO of Elite Medical Experts, is a nationally renowned authority on medical liability, informed consent, and complex issues at the intersections of medicine, law, and business. As a board-certified Emergency Medicine physician and entrepreneur, Dr. Bentley founded Elite Medical Experts in 2010 while overseeing nearly a decade of year-over-year growth. Dr. Bentley also developed and patented a commercial medical device and co-founded Consent Spectrum, a state-of-the-art digital platform for informed consent in aesthetic medical procedures.  Outside of Elite, Dr. Bentley can be found spending time with his family and riding horses in Tucson's riverbeds and deserts.
PLEASE CLICK ON ANY OF THE FOLLOWING MEDICAL SPECIALTIES TO LEARN MORE:​