Radiation Oncology Expert Witness
A Radiation Oncology expert witness is a Radiologist who treats cancer and testifies on the use of radiation (radiotherapy) to treat tumors and cancer pain.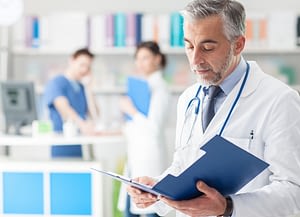 Radiation Oncology is a medical field that uses ionizing radiation (energy strong enough to disrupt atoms) to treat and cure cancer. Radiation Oncologists are trained as Radiologists so that they can interpret and act upon complex medical imaging, but they are also Oncologists who understand cancer in order to use radiation (radiotherapy) to shrink and kill tumors. Given the multidisciplinary approach to cancer treatment, Radiation Oncologists often work alongside specialists in Medical Oncology, Surgical Oncology, Pathology, Medical Physics, Interventional Radiology, and Internal Medicine. In legal cases, experts from these allied fields may be required in addition to a Radiation Oncology expert witness.
Radiation Oncologists secure their medical degree and then complete an internship followed by four years of residency training in Radiation Oncology. They are then eligible for Board Certification by the American Board of Radiology with a primary specialty certificate in Radiation Oncology. Clinically, Radiation Oncologists deploy a range of treatment modalities including radioactive implants, external beam radiotherapy, internal radiation therapy, and combined modalities such as radiotherapy in conjunction with surgery, immunotherapy, or chemotherapy. Radiotherapy is used to treat myriad benign and malignant tumors including acoustic neuroma, brain tumor, breast cancer, prostate cancer, and tumors of the spine and spinal cord. It also may be used palliatively to shrink painful tumors, and for non-cancerous conditions such as trigeminal neuralgia and arteriovenous malformations (AVM).
From opinions on liability to the analysis of complex issues involving any facet of radiotherapy, Elite Medical Experts will hand select an experienced Radiation Oncology expert witness for any facet of Radiation Oncology including:
EBRT (External Beam Radiation Therapy)

IMRT (Intensity Modulated Radiotherapy)

IGRT (Image Guided Radiotherapy)

Stereotactic radiotherapy

Stereotactic radiosurgery

Gamma knife (Leksell-Larsson Gamma Knife)

Internal Beam Radiation Therapy (Brachytherapy)

Radioactive isotope (e.g. Radioactive iodine, or I-131)
Given the complex issues involved in Radiation Oncology, a nationally recognized Radiation Oncology expert witness from a major university medical center will be an invaluable asset for challenging assignments. To secure a hand-selected Radiation Oncology expert witness who is ready to work with you, please contact Elite Medical Experts and speak with a physician or nurse on our Case Strategy Team.
A Case Strategist will respond right away:
PLEASE CLICK ON ANY OF THE FOLLOWING MEDICAL SPECIALTIES TO LEARN MORE:​