Interventional Radiology Expert Witness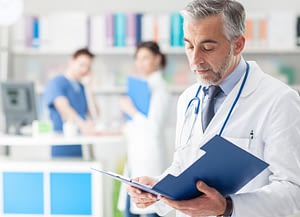 An Interventional Radiology expert witness is a Radiologist who testifies on the use of minimally invasive imaging techniques to diagnose and treat disease. Interventional Radiology, commonly abbreviated as IR, is a branch of Radiology in which minimally invasive procedures are performed using imaging techniques that offer real-time guidance. The images provide a road map allowing the Interventional Radiologist to guide various instruments throughout the body in order to perform a wide array of procedures. This differs from traditional Radiology, which simply involves the interpretation of images for diagnostic purposes. The American Board of Radiology is the certifying body for IR under the certificate "Diagnostic Radiology and Interventional Radiology."
Interventional Radiology is sometimes referred to as VIR for Vascular and Interventional Radiology. This is because Interventional Radiology involves procedures done for both diagnostic purposes (e.g. angiography) as well as procedures done for treatment (e.g. angioplasty). Common procedures in Interventional Radiology include balloon angioplasty and stent placement, embolization, drain insertion, tissue biopsy, thrombolysis (i.e. clot dissolution), line insertion, and IVC (inferior vena cava) filters.
Litigation against Interventional Radiologists commonly involves complications encountered during the performance of interventional procedures, such as when a procedure results in perforation of a structure or injury to an adjacent area. Interventional Radiologists also serve as causation experts by discussing what would have occurred had timely intervention been undertaken. An experienced Interventional Radiology expert witness may address an of these areas.
Interventional Radiology

Case Matter
Regardless of the procedure involved, Elite Medical Experts covers the entire spectrum of Interventional Radiology litigation and consultation, including:
Angiography
Atherectomy for peripheral vascular disease
Balloon angioplasty/stent
Cholecystostomy
Drain insertions
Embolization of arteriovenous malformations
Chemoembolization of tumor tissue
Thrombolysis and thrombectomy
Tissue biopsy
Aneurysm coiling and embolization
Radiofrequency ablation
IVC (inferior vena cava) filters
Endovascular repair of thoracic and abdominal aortic aneurysm
Vertebroplasty and kyphoplasty
Nephrostomy tube placement
Dialysis catheter placement
Central venous catheters (PICC lines, Hickman catheters, and subcutaneous ports)
Radiologically inserted gastrostomy or RIG (feeding tubes)
TIPS Procedure (Transjugular Intrahepatic Portosystemic Shunt)
Uterine fibroid and uterine artery embolization
Endovenous laser treatment of varicose veins
Since IR is a highly specialized field, an experienced Board-Certified Interventional Radiologist from a top university medical center is an invaluable asset for challenging assignments. To secure a hand-selected Interventional Radiology expert witness who is ready to work with you, please contact Elite Medical Experts and speak with a physician or nurse on Elite's experienced Case Strategy Team today.
A Case Strategist will respond right away: