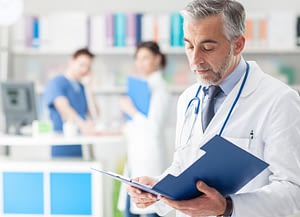 An Oncology expert witness is an Oncologist who testifies on the diagnosis, treatment, and prognosis of breast cancer, colon cancer, and other tumors. Oncology is a branch of medicine concerned with the study and treatment of tumors. Tumors, commonly referred to as cancer, are one of the most common causes of death in the United States. Basic oncologic subspecialties include Pediatric Oncology, Radiation Oncology, Neuro-Oncology, Surgical Oncology, Dermatologic Oncology, and Gynecologic Oncology. Some Oncologists also specialize within their field and develop expertise in specific areas such as breast cancer, head & neck tumors, leukemia, lymphoma, and multiple myeloma. A carefully selected Oncology expert witness may address any of these specialized areas.
Litigation in Oncology often arises from allegations of missed or delayed diagnosis, commonly resulting in further complications or death. Consequently, an Oncology expert witness evaluates both standard of care and issues of causation.
From the treatment of common tumors to the most complex cancer complications and treatments, Elite Medical Experts will hand select a nationally respected Oncology expert witness to review any aspects of oncologic litigation including:
Acute Lymphocytic Leukemia (ALL)
Acute Lymphoblastic Leukemia
Acute Myeloid Leukemia (AML)
Chronic Lymphocytic Leukemia (CLL)
Chronic Myeloid Leukemia (CML)
Myelodysplastic Syndrome (MDS)
Myelofibrosis
B-cell lymphoma
T-cell lymphoma
Hodgkin and Non-Hodgkin Lymphoma
Multiple myeloma
Small cell and non-small cell lung carcinoma
Adenocarcinoma
Squamous cell carcinoma
Head and neck tumors
Gastric and esophageal cancer
Pancreatic cancer
Colon and rectal cancer
Neuroendocrine tumors
Breast cancer
Ovarian, endometrial, and cervical cancer
Renal cell carcinoma
Bladder cancer
Prostate cancer
Malignant melanoma
Basal and squamous cell cancers
Sarcoma
Tumor lysis syndrome
Oncology cases are complex and require a thorough analysis of the requisite elements of negligence, particularly causation. An experienced Board-Certified Oncology expert witness from a leading university medical center is an invaluable resource for challenging assignments. To secure a hand-selected Oncology expert witness who is ready to work with you, please contact Elite Medical Experts and speak with a physician or nurse on Elite's experienced Case Strategy Team today.
A Case Strategist will respond right away: